Let's Not Waste California's Opportunity to Be the Nation's Leader in Electric Refuse Trucks
California's refuse industry is trying to drive a garbage truck-sized hole in the Golden State's landmark new regulation to shift trucks to zero emissions. We should stop them.
The California Air Resources Board – one of the most important air regulatory agencies in the world – is on the precipice of adopting a critical regulation to push hundreds of thousands of trucks to zero emissions in California. The rule is crucial to making our air clean and safe to breathe, and protecting our climate from devastating levels of pollution. What's more, a slew of states will follow suit and adopt California's standards to clean up their state's truck fleets, so the blueprint California builds now will have impacts across the country.
But, there is one corner of the regulation lacking in ambition that does not track with California's leader status on zero-emissions – refuse trucks. At the behest of vested interests in the waste industry, the rule may have a massive exemption allowing methane-burning refuse trucks to continue polluting in California well beyond other truck fleets covered by this rule.  
Imagine, fifteen years from now, that the vast majority of vehicles on California's roads are electric – except for garbage trucks rolling along every street, and in every neighborhood, pumping out fossil fuel pollution. It simply doesn't make sense. And it especially won't make sense for the communities, often working-class communities of color, who have landfills sited near them with heavy truck activity, and who would breathe in the brunt of this pollution.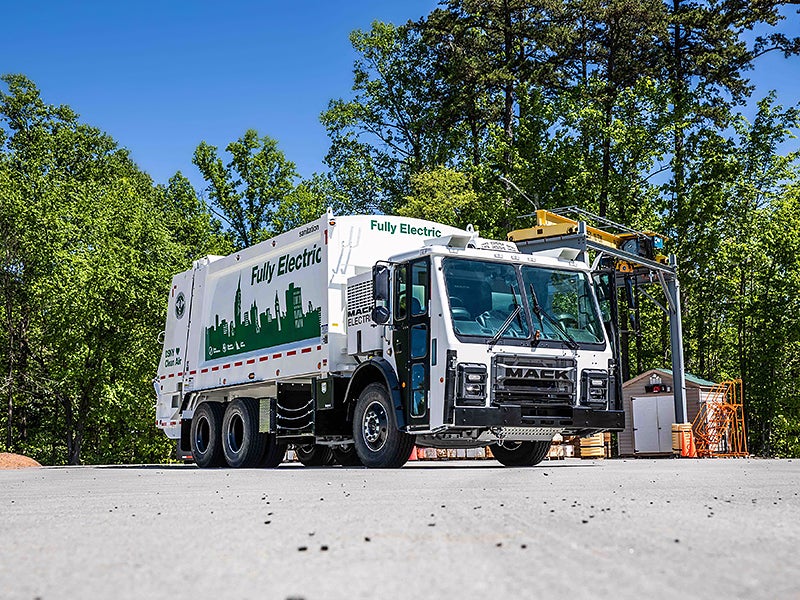 Mack Trucks
The irony is that refuse trucks are prime for electrification. Refuse trucks drive predictable routes and park in centralized locations each night, making charging easy. They stop frequently to pick up waste along our streets, which would charge an electric truck battery through regenerative braking. And an electric waste truck doesn't need to idle — turning the page altogether on the decades of garbage trucks pumping out tailpipe pollution on our streets while idling between homes.
For all these reasons and more, manufacturers from Mack Trucks to BYD to Lion Electric have produced a wide variety of electric refuse truck models, and cities from New York City to Boise are already deploying them. A 2021 report by the California Air Resources Board even shows that battery electric refuse trucks outperform diesel, fossil gas, and fuel cell electric models when it comes to having the lowest total cost of ownership. Massive flows of funding from the federal government through the Inflation Reduction Act is expected to drive down costs, leading analysts to predict widespread adoption of electric refuse trucks this decade if state and federal policies align.
The basis for the methane-burning exemption is claims that a state law, SB 1383, encourages us to capture methane from landfills and other methane sources. In reality, a mere 100 to 150 trucks in California are running on methane directly captured from California sources. But the waste industry is trying to turn this mouse hole into a massive exemption for all methane-burning trucks, regardless of whether they are actually burning methane captured locally. To get a sense of just how large this polluting exemption could be – there are 16,500 class 8 garbage trucks in California. Over half of them — a staggering 9,000 trucks — could be allowed to stick with old polluting technology under this exemption, and industry lobbyists are trying to blow that up to be even larger. It's an overreach from the waste industry and the methane industry.   
What's worse, the loophole allowing this legacy combustion to continue polluting would hit the nation's two smoggiest regions hardest: Los Angeles and the San Joaquin Valley, as they have the most methane-burning garbage trucks. These regions don't have the luxury to waste time allowing combustion refuse trucks to clog our streets for the next two decades as proposed by the rule.
A broad exemption by the California Air Resources Board would strike a blow to the credibility of the agency, as the loophole would ignore scientific findings and available zero emissions technology to instead grant an exemption for political purposes. Corporate behemoths like Waste Management, Republic Services, and methane fueling companies can be formidable opponents. But in the face of their lobbying for combustion, we encourage the Board of the California Air Resources Board to be bold and stand strong against this industry with a long legacy of environmental harms.